About // Larry McReynolds
Larry McReynolds
One of NASCAR's most successful and recognized crew chiefs is Larry McReynolds. Larry's NASCAR career began in 1975. He worked his way up the ladder and took his first crew chief job in 1985. His first win as a crew chief was in 1988 at Watkins Glen with Ricky Rudd as the driver.
The combination in 1991 of Larry, Robert Yates and driver Davey Allison was pure magic! Together they brought home 11 wins and 3 pole positions. They won The Winston back-to-back in 1991 & 1992. As crew chief, Larry won his first Daytona 500 in 1992 with Davey behind the wheel of the famous #28 Texaco Ford. When teamed with driver Ernie Irvan in 1993, the two combined for 5 pole positions.
After joining Richard Childress Racing in 1997, Larry helped NASCAR legend Dale Earnhardt earn the one missing jewel of his champion's crown - the 1998 Daytona 500!
Larry McReynolds has enjoyed 23 victories, 21 pole positions, 122 Top 5 finishes and 209 Top 10 finishes!
McReynolds-led teams have finished in the Top 10 in the Winston Cup point standings six times and finished in the Top 5 three of those times.
At the end of the 2000 NASCAR season, Larry made the hard decision to leave the Richard Childress-owned #31 Lowe's Chevrolet and ventured into the Fox Sports broadcast booth with Mike Joy and three time Winston Cup champion Darrell Waltrip.
And so Larry begins another chapter in his storied career...
The Big Picture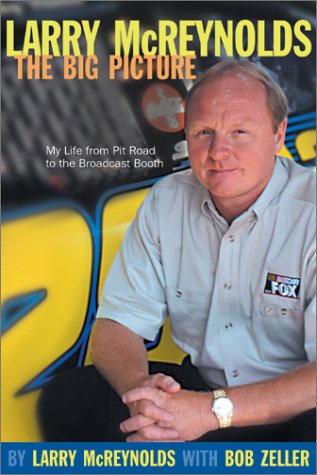 As a top crew chief in NASCAR Winston Cup racing, Larry McReynolds has guided drivers such as Dale Earnhardt, Davey Allison, and Ernie Irvan to victory. His is a story of single-minded determination to succeed in the top tier of racing, regardless of setbacks. McReynolds, who is now a popular FOX broadcaster, brings a fresh perspective and fascinating stories that include radioing Earnhardt instructions where to accelerate in a turn, and getting bawled out in the NASCAR trailer by series boss Bill France for speaking his mind. This is an unparalleled insider's look at NASCAR racing.
---
Other Speakers From Racing Business