Trent Cherry
Few athletes in the history of Providence Day sports have accomplished more than Trent Cherry during his four years as a varsity Charger. In fact, the same can be said for all of Mecklenburg Country athletes. While at Providence Day, Trent was a three sport athlete competing in football, basketball and tennis. His record breaking accomplishments as a quarterback on the gridiron were extremely impressive. During his four years, Trent established the state career passing record with 6,374 yards. This record lasted until 2012 when Davidson Day's All-American Will Grier broke his record. Along with his career yardage record, Trent held a 53% passing rating and threw for 52 touchdowns. He is still tenth on the All-Time Mecklenburg County list for passing. His list of accomplishments doesn't end with football.
In addition to being All-Conference and All-State in football for three years, Trent was also All-Conference and All-State in basketball for two years as well as a four time state champion in tennis. In addition to his busy athletic schedule, Trent also interned with Rusty Wallace's race shop through a friendship with classmate Greg Wallace '98 to fulfill a PD requirement. This led to Trent's growing interest with NASCAR and Penske Racing.
Trent continued his athletic career at Lenoir-Rhyne College where he signed to play both football and tennis. While at Lenoir-Rhyne, he also pursued his love for NASCAR where he started pitting and coaching for Penske Racing with the Ryan Newman team. After graduating from Lenoir-Rhyne, he became a pit crew coach for all Penske NASCAR teams and helped Ryan Newman win the 50th running of the Daytona 500 in 2008.
Today, Trent is a coach for NASCAR and is third on the all-time wins list for Penske Racing for pit crew members and first for coaching. From 2000 to 2013 he was a rear tire carrier where he won 41 races and is currently at 71 for total coaching wins. Like his days at Providence Day, his list of accomplishments is impressive: member of the 2002 All Star Race, 2007 Pit Competition Champion, 2008 Daytona 500 Champion, 2010 Nationwide Champion, and the 2012 Nextel Cup Champion. Trent is also the author of Money Stop, a book which takes an inside look at the history of the NASCAR pit crews as well as the owner of the website www.pittalks.com.
Money Stop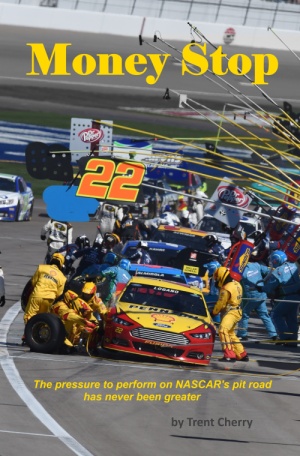 This is a one-of-a-kind book on the history and profession of a NASCAR pit crew member. This book covers every aspect of the job. The last 20 pages are dedicated to stories told by past and present pit crew members about some of the most awesome pit stops in history. There is nothing else out there quite like this. If you're a NASCAR or sports fan, the stories in this book will have you entertained.
---
Other Speakers From Racing Experts